York Community High School

NOTICE: GOOGLE AND OTHER BROWSER PROVIDERS ARE UPDATING THE SECURITY REQUIREMENTS FOR ALL WEBSITES. YOU MAY GET SECURITY NOTICES ON SOME PAGES IN THIS SITE. CLASS CREATOR, THE PROVIDER OF THIS SITE HAS ASSURED US THAT ALL PAGES HANDLING SENSITIVE INFORMATION ARE SECURED AND THEY ARE WORKING ON UPDATING THEIR SYSTEM TO RESOLVE THIS PROBLEM.
York Class of 1969
50th Anniversary Reunion
September 13 - 14, 2019
Click on link in top bar: REUNION RESERVATION (Please tell us so we can plan appropriately!)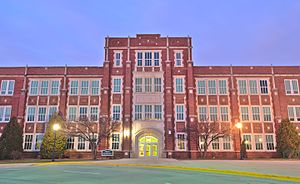 Sign in and register above, to update your information so you will be notified of updates.
Enter your profile to tell us what you are up to.

Go to the Reunion Events link (top) to see what is planned!

Help Find Classmates - Spread the word, tell everyone about

www.york196950th.com
Upload a current photo - warning, we will be uploading your yearbook photo soon, so a new one will be your only defense!
We have e-mails for about one-third of the class. Check the "LOST CLASSMATES" link above and send this to anyone you know on that list.